ARE YOU READY FOR KISSABEL®? An apple that's not only red on the outside, but the inside too. Look closer.
About
KISSABEL® is an exciting NEW apple in Australia and available now in May 2023 for a limited time!
Using IFORed breeding technology that originates from France, this new brand of apple will be sure to excite the curious types with its red flesh.
An apple like no other, the inside is red! Naturally!
With a star-shaped centre with varying shades of red to pink, keep your eyes peeled for more announcements on how you can try this NEW apple.
Seasonality
Kissabel® apples have a short, limited season and are harvested between late March and May.
If you are lucky enough to find kissabel®, pick some up today as they won't last long. Only limited quantities are currently grown in Australia.
NATURAL. VITALIZING. TASTY.
Growers
Kissabel® apples are grown in research and development orchards in Stanthorpe in Queensland, Batlow in New South Wales, Harcourt, Yarra Valley and Narre Warren North in Victoria, Adelaide Hills in South Australia, Tamar Valley and Huon Valley in Tasmania.
Where to Buy
Kissabel® is available NOW in May 2023 until mid June 2023 for a limited season FIRST in Australia. Be one of the first to try this exiciting and declicious new apple.
If you are lucky to see some at selected Coles supermarket, Costco or greengrocer, pick some up before they disappear.
Follow our social media channels @montagueofficial to keep up to date with when and where Kissabel® will be hitting the supermarket shelves next.
A limited amount of Kissabel® apples is NOW available at Bill's Orchard Gate located at The Orchard at Montague in Narre Warren North, VIC.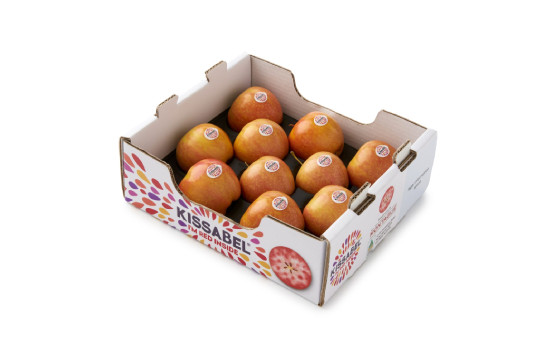 Delicious Recipes
envy™ apple and tuna tartar with dill & chive oil and macadamia cream
Kissabel® Queen of Puddings
Cheesy JAZZ™ Apple & Caramelised Onion Tart (Vegetarian)
Ambrosia™ Apple & Honey Salsa with Grilled Haloumi