We've got something special coming your way: an apple that's not only red on the outside, but the inside too.
About
Warning: slicing an apple will never be the same again.
Using IFORed breeding technology that originates from France, this new brand of apple will be sure to excite the curious types with its red flesh.
With a star-shaped centre with varying shades of red to pink, keep your eyes peeled for more announcements when this apple will be available to you in retailers.
Seasonality
Kissabel® apples have a short season and are harvested between late March and May.
Growers
Kissabel® apples are currently being grown in our research and development orchards in Stanthorpe in Queensland, Batlow in New South Wales, Harcourt, Yarra Valley and Narre Warren North in Victoria, Adelaide Hills in South Australia and Tamar Valley and Huon Valley in Tasmania.
Where to Buy
While Kissabel® isn't currently available for you to buy from your local supermarket or greengrocer, make sure you follow our social media channels @montagueofficial to keep up to date with when and where Kissabel® will be hitting the supermarket shelves. A limited amount of Kissabel® apples are available at Bill's Orchard Gate located at The Orchard at Montague in Narre Warren North, VIC.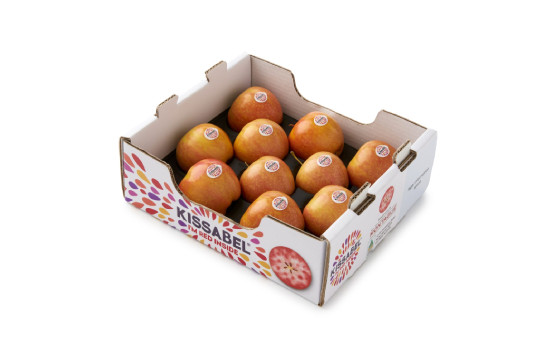 Delicious Recipes
Haloumi & envy™ Apple Slaw Tacos
envy™ Apple & Honey Pancakes
Fresh envy™ Apple & Ginger Kimchi
envy™ Apple & Date Muffins