Founded in 1948, a young William (Bill) Montague OAM purchased a carting operation that turned the Montague name into a fresh food provider and we have never looked back.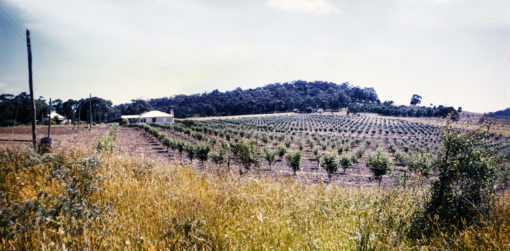 Humble Beginnings
Starting from the humble beginnings as an Australian apple grower harvesting fresh apples in a family orchard, we have spent 70 years growing a tight-knit community of hard-working individuals to expand from fruit production to cold storage facilitation and logistics.
Family, Food & Innovation
From searching the corners of the world to source the best quality produce to grow in our own backyard, to connecting with the latest technology such as, introducing the first Controlled Atmosphere (CA) storage into Australia in 1967, we will always be driven by family, food, innovation, loyalty and service.
Back to top
1948
Bill Montague purchases carting operation and wins contract to supply vegetables to Melbourne hospitals.
1950
Bill plants his first orchard at Narre Warren North, Victoria
1958
The company is incorporated and the first Cold Storage facility is built at Narre Warren North, Victoria
1964
Montague Supported the World Scout Jamboree
1965
Frank Montague, Bill's eldest son, joins the business
1966
Our relationship with Australian Safeway begins
1967
Bill Montague introduces Controlled Atmosphere (CA) Storage to Australia
1968
Greg Montague, Bill's second son, joins the business
1970
Ray Montague, Bill's third son, joins the business
1977
Natural waxing on apples is introduced
Frank, Greg and Ray are appointed Directors of Montague.
1983
Montague purchased 210 acres in Legana, Tasmania, to plant their first interstate orchard.
1984
Wholesale stand at Flemington Market, New South Wales is purchased
1987
New packing shed opened at Narre Warren North Site
1988
Labelling on apples (apple stickers) is introduced to Australia by Bill Montague
1989
Purchase of Land to Build Allansford Cold Storage facility
Purchase Batlow Orchard, New South Wales
1993
Frank Montague passes away from a cancerous brain tumour
Hamish Montague, Frank's son, joins the business
1996
The next (third) generation of Montagues join the business- Hamish, Scott & Tim.
1994
Harcourt Orchard in Victoria is purchased
1995
A.J Carters Pty Ltd wholesale market stand purchased in Queensland which became the catalyst for National Supply to Woolworths.
Intensive planting system established at Orchards, 250 trees per acre increases to 1,000 trees per acre.
1997
Montague Cold Storage purpose build Cold Storage facility in Devonport, Tasmania
Montague awarded Safeway Supplier of the Year – Best Fruit & Veg
Montague Bros purchased Coldstorage facility Meaden St South Melbourne (Nov 98)
1999
Bill Montague recognised by Australia Fresh Fruit Company as a legend of the industry (AFFCO).
2002
Montague Cold Storage purchase Cold Storage site in Tullamarine, Victoria
Montague Cold Storage lease facility at West Melbourne, Victoria
2003
Jarryd Montague, Ray's youngest son, joins the business
Ray Montague appointed to APAL Board (Serving 2003/2004)
Bilmont Orchard in Swan Hill, Victoria is purchased
Exclusive JazzTM Licence agreement signed with Enza (28/4/18)
Marketing Licence signed with Sunworld International (23/5/2003)
Hamish Montague appointed Director AFCSAV (Orchardists and Fruit Coolstores Association of Victoria( (2003 – 2005)
2004
Andrew Montague, Greg's son, joins the business
Hamish Montague appointed Director.
Hamish Montague appointed director of Australian Fresh Fruit Company (AFFCO) (2004 – 2006)
2005
Stonefruit Grader installed at Narre Warren North site.
2006
Bill Montague receives an OAM (Order of Australia Medal) for services to the Australian Fruit Industry
The first JazzTM plantings commence at Batlow Orchard, New South Wales
Michael Napthali (Chair) and Erik Sholtz appointed as independent board directors
2007
Sydney Warehouse purchased in Strathfield South, New South Wales
Montague awarded Woolworth's Supplier – Produce Category Winner
Signed Exclusive Agreement with Heartland for eve® (8/1/2007)
2008
Greg Montague is tragically killed in a car accident
Exclusive Bradford Licence Agreement signed for US Stonefruit varieties (3/12/08)
Exclusive Licence agreement with TEAK for Donut™ Peach Brand
Ray Montague is appointed Managing Director of the Montague Group
2009
Montague awarded Woolworth's Supplier of the Year – Produce Category Winner
Signed Exclusive Agreement with PSB
'Target Zero' rollout of company OH&S Program across the business
2010
Crystal Montague, Greg's daughter, joins the business
Montague sign agreement with Heartland for apple variety, EveTM
2011
Montague finalists for Worksafe Awards in Health and Wellbeing category
Montague refresh their company identity
Scott Montague appointed as a director on APAL Board
Hamish Montague appointed director Brismark
2012
Launch EveTM nationally in Coles Supermarkets
Montague appointed sole Australian representative for IFORED, an international consortium for exclusive red fleshed apple breeds.
Montague awarded exclusive marketing rights to new variety Smitten™ in Australia
Montague partnership with Secondbite began in July 2012 with first fruit donation
2013
Jarryd William Montague sadly passed 29th September
Montague Fresh awarded Woolworths Fresh Supplier of the Year and Overall Supplier of the Year & Produce Category Winner in the same year
Montague awarded exclusive marketing rights to new variety Ambrosia™ in Australia (5/06/20013)
Hamish Montague appointed director Fresh Markets Australia (FMA)
2014
Montague Fresh becomes a Grocery Vendor for Woolworths with the introduction of its Sparkling Apple Juice
November 2014 marks the official Opening of our World Class Truganina Cold Facility
2015
Montague expand its Narre Warren North orchard by acquiring 18 Horswood Rd for new packing facility and community engagement facility.
April 2015 – Montague Cold Storage ranks in the top 25 largest Third Party Refrigerated Warehouse Providers in the world.  – source IARW
December 2015 – Montague are awarded Woolworths  Supplier of the Year – Fruit
2016
May 2016 – Montague develops  Montague Cider House brand made from 100% Australian grown JAZZ™Apples and is awarded a Liquor Vendor number by Coles Liquor.
Montague celebrates the 10 year anniversary of its Jazz™ Apples in Australia.
Montague received the 2016 Apple and Pear Australia Limited (APAL) Innovative Marketing Award in recognition of Montague's JAZZ™ Apples campaign
Ray Montague appointed Chair of the International Pome Fruit Alliance (IPA)
Signed Exclusive agreement for Sweet Sensation Pear
2017
2017 Montague Fresh plant its first Kissabel® Red Flesh Apple trees in Australia
1st of September 2017 – Montague and long term partner T&G Global agree to partnership of our Montague Premium Stonefruit brands 'CROC EGGS' and 'the MONTAGUE tree' in export markets.
Kissabel® Apples – A unique and amazing range of red flesh apple varieties are launched in Europe with Montague collaboration and support.
2018
June 2018
Montague Celebrated 70 years in business (Since 1948)
Stella Montague passed away peacefully, Tuesday the 8th of May Stella, a loving Mother, Grandmother and Great Grandmother. Fondly remembered and respected by all.
Ray Montague awarded a lifetime achievement award for dedication to the Apple and Pear industry by APAL
Montague Awarded Export of the Year by APAL
Signed Exclusive Agreement for Sweetango™
2019
September 2019
Montague broke ground on the new packaging, export distribution centre and a community engagement centre in Narre Warren North.
September 2019
Montague Queensland opens its new world-class fresh produce facility within the Brisbane Markets.
2020
Scott appointed Managing Director of Montague
2019/2020 Bushfires
COVID-19 Pandemic
2021
Opening of new packhouse facility and engagement centre at Narre Warren North.
Crystal and Andrew exit the business
"The values of hard work and perseverance that I instilled in my sons has been passed on to the next generation and filtered through our diverse workforce and I couldn't be more proud of where we are today"